S-BOX™ QUALITY & PERFORMANCE
S-Box™ is constructed with heavy duty ball bearing slides, 304 stainless top and powder coated steel carcass. Tested to 75,000 cycles and designed to exceed the life of your kitchen.
Full UL listed (E359914) and Splash rated for use in kitchens and wet environments - UL962A + NEC 2 litre (1⁄2 Gallon) Saline Liquid Test 406.5 (E) . Unit includes a 6' power cord designed to plug into a GFCI circuit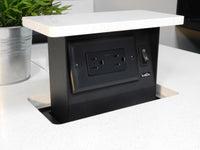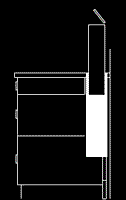 S-BOX™ INNOVATION & DESIGN
S-Box™ - patented counter-balance offers non-powered ease. Soft press and release activates the counter-balance weight carriage for smooth opening and closing
Innovation in kitchen storage and kitchen design
S-BOX™ - THE CHAMELEON "HIDDEN IN PLAIN SIGHT!"
S-Box™ offers a unique option for a custom top which uses a piece of your countertop to conceal the unit
S-Box™ products provide any countertop with both Clever Kinetics and "Chameleon" skills
Works with 12mm, 2cm, 3cm or thicker (1/2", 3/4", 1-3/16" or thicker)