10 Kitchen Trends For 2020
If you are curious about current kitchen styles, this post is for you! We searched around the internet to get a better understanding on what some ideas that are trending for 2020 were, and compiled them into this list! Check it out!
1.) Marble Kitchen Countertops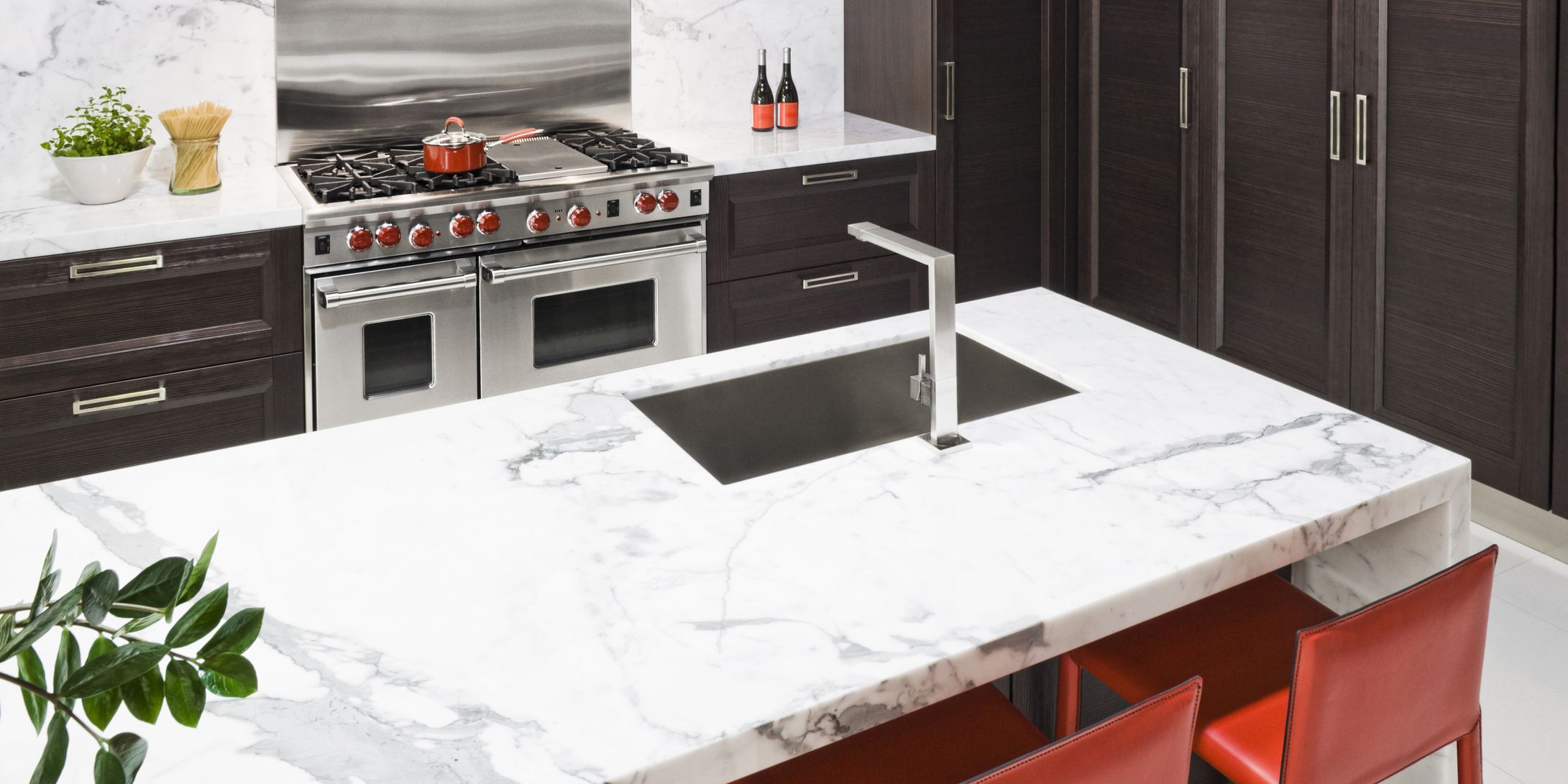 Marble seems as if it will always be in style, but if you're a red wine drinker, quartz could be a much better fit for you and your kitchen. While it looks like a natural stone, engineered quartz is more affordable and less prone to stains. We cover more on our blog about top 10 countertop surfaces!
2.) Kitchen Larders
A larder is a cool area for storing food prior to use. Originally, it was where raw meat was larded—covered in fat—to be preserved. By the eighteenth century, the term had expanded. Then a dry larder was where bread, pastry, milk, butter, or cooked meats were stored. The kitchen larder has now transformed into a stand-alone cupboard or pantry. They can be large enough to house the majority of your dry goods but small enough to keep things organized while taking up a minimal amount of valuable space. Forget a walk-in and sub in counter-top cabinet or add doors to enclose pre-existing shelving.
3.) Reclaimed Wood Kitchen Cabinetry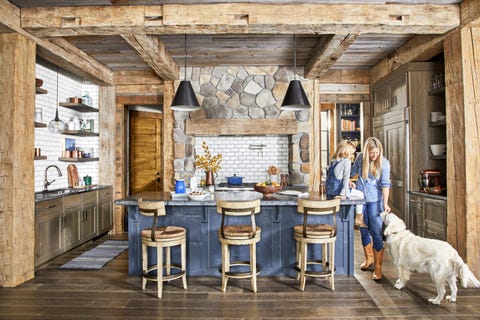 If you're planning on installing custom cabinets for a renovation, maybe consider opting for a rough-hewn, reclaimed wood. And good news if you're going pre-fab, companies such as IKEA are moving to more natural, eco-friendly materials for their kitchen cabinets. From bamboo to even recycled plastic bottles, cabinet companies are taking this revival of reduce and reuse very seriously. I love the modern kitchen with a hint of aged aesthetic!
4.) Kitchen Wallpaper
While wallpaper has become less scary to the general population over the last five years or so, folks are still reluctant to hang it in the kitchen. It really depends on what look you are trying to achieve. But if you're scared about the permanency of wallpaper, try something less permanent. There are plenty of peel-and-stick papers in trendy designs that are incredibly easy to install and remove. (They make graphic designs that mimic the look of tile!)
5.) Kitchen Plate Racks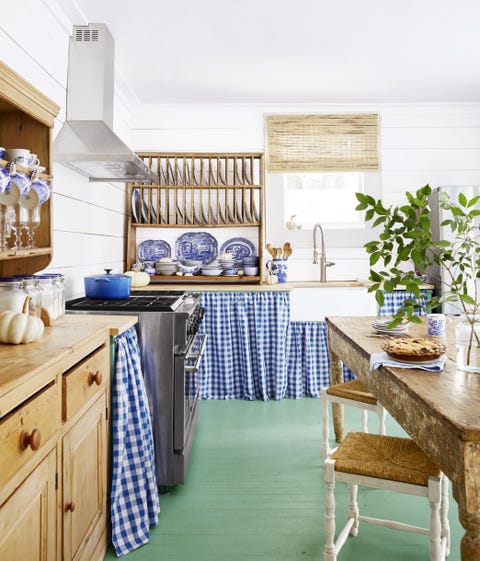 Vintage plate racks are coming back in a big way in 2020. Whether displayed on countertops or mounted on walls, they add a ton of soul to a space and give you an actual place to store and display your dish ware instead of hiding it away in a hutch or cupboard.
6.) Hidden Kitchen Appliances
Not a fan of stainless steel facades? Try adding fronts to your appliances that mimic your cabinetry. Refrigerators and dishwashers disappear when clad to match their cabinet cohorts. Even your massive oven hood can get in on the action. And as for outlets, hide them perfectly with the S-Box™ Chameleon Pop-up outlets! Making all the things that pop will really streamline your kitchen.
7.) Open Kitchen and Living Areas
Maximize your living space by turning the family room and kitchen into one large room! A mix of lighting helps differentiate the areas, while a uniform wall color keeps everything cohesive. Best of both worlds! A nice island is a great way to have a small barrier to still separate the two to an extent!
8.) Butcher Block Countertops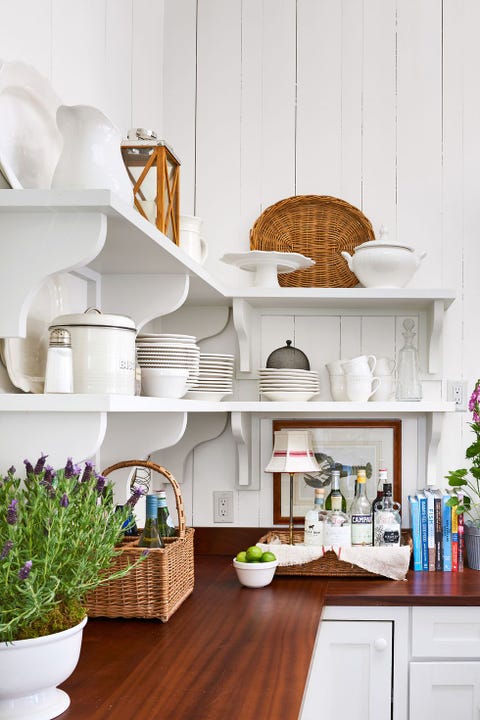 Butcher block is virtually maintenance-free—it just needs an occasional coating of mineral oil—and the natural material is the perfect neutral to break up an all-white palette.
9.) Concealed Range Hoods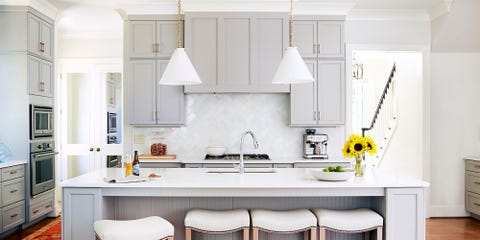 If you feel inclined to give more attention to your appliances, backsplash, or accessories, then you're going to be the first to embrace this new trend. Let your other kitchen elements steal the show with a sleek and minimalistic range hood.
10.) Darker Floors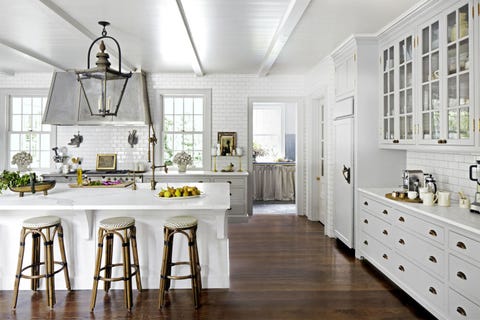 If you choose a light paint for walls or cabinetry, select a dark floor stain to up the cozy factor of the room. Mix one-half Ebony and one-half Jacobean from Minwax.
That's it for now, we will continue to find more and more new styles for 2020! Stay tuned!
Thanks countryliving.com for some ideas!